At the beginning of June 2023, the Notarial Chamber of Slovenia organised its traditional professional meeting in Portorož and celebrated the 28th anniversary of notariat in the Republic of Slovenia. A training session was addressed to notaries and employees of notarial offices on topics related to the handling of archival and documentary material by notaries and the use of the e-notar information system in archiving and converting notarial documents into electronic form. Two foreign guests were invited to participate: Mr Jānis Skrastinš, President of the Latvian Council of notaries, who presented its notarial service online, and the ARERT/ENRWA.
Mrs Kralj, Slovenian notary and member of the ARERT Steering committee, introduced the ENRWA's presentation, recording that her notariat was a founding member of the association in 2002. Mr Rogojanu, President of the ENRWA, and Mr François-Xavier Bary, Director of the ENRWA, presented the main achievements of the network to facilitate locating a will in Europe and increase cooperation between law professionals. The ENRWA is also participating to the implementation of the European regulation on succession n°650/2012, promoting the creation of ECS register and their interconnection via the RERT/ENRW.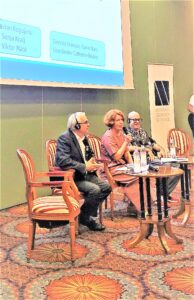 This event provided an opportunity to learn about the digitalisation process of the Slovenian notariat. "The register of last wills of notaries in Slovenia has been fully digitalised and it makes it possible for it to be interconnected with the RERT. We will be pleased to support our colleagues in this process so they can locate easily last wills n other European countries", said Mr. Rogojanu. "Le registre des dernières volontés des notaires en Slovénie a été entièrement numérisé, ce qui permet de l'interconnecter avec le RERT. Nous serons heureux de soutenir nos collègues dans ce processus afin qu'ils puissent localiser facilement des testaments dans d'autres pays européens", a déclaré Maître Rogojanu.